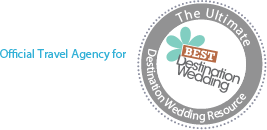 Wright Travel Agency is a full service travel agency and we are here to serve all your leisure and business travel arrangements. We are an award winning travel agency. Our agents are Destination Wedding, Honeymoon, and Family Travel specialists.
We have helped thousands of brides and grooms plan their destination weddings.
We are based in the San Francisco Bay Area and we also have agents across the country so we are here to help you locally as well as globally.
In 2011, 2012, & 2013, we were awarded with the Best of the Best Globe Award from Travel Impressions, a subsidiary of American Express.
In 2013 we were awarded Karisma Hotels Diamond Level 5 GIVC, which is their highest production level as well as top wedding coordinator.
We are also a top producing agency with Palace Resorts, Dreams Resorts, Iberostar Resorts and have great relationships with their booking departments and are in constant contact with them.
We are a family owned and operated business but are also affiliated with some of the biggest providers of travel packages and cruises.
Our sales volume is large enough that we get the same low rates as the online booking giants – but we provide a much higher level of personal service that they cannot come close to.
Read some Reviews of Wright Travel Agency to see what people are saying about us.
Certifications & Awards