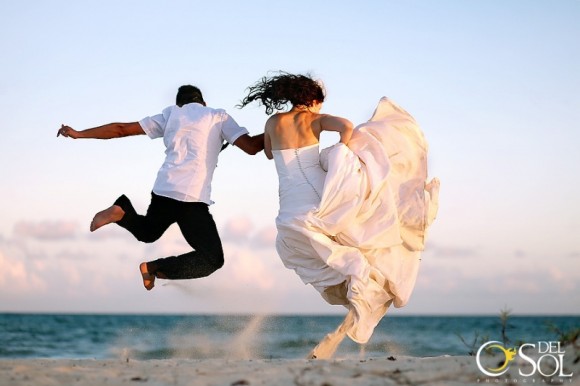 Planning a destination wedding can be a little trickier than planning a traditional wedding.  It definitely will be easier to work with a travel agency that specializes in them and WE DO!
Below is a timeline to help your wedding planning go smoothly. You can adjust it to suit your needs.
12 Months or more
Cut out pictures and articles that inspire you. Keep them organized in a binder. Martha Stewart has a great binder that has pockets to keep photos, cards of vendors, swatches, etc.
Start looking at bridal magazines and look for local bridal faire to attend. This is a great way to meet wedding vendors and see their work first hand
This is the hard part. Set a realistic budget.
Start on your guest list. Invite those that you want to spend your wedding with.  Destination weddings are smaller more intimate affairs so do not feel guilty about not inviting your coworkers that you barely know. Be prepared that some of the guests you invite at the wedding may not be able to come for financial or logistical reasons.
If you plan on getting married out of the country, be sure to check the laws to make sure your marriage is recognized in the states. If it is a larger wedding, you may want to look into hiring a wedding coordinator who specializes in destination weddings.
Start researching different locations for a destination wedding. Things to consider: travel time, seasons/weather (you do not want to have your wedding during hurricane season), cost of accommodations, etc.
Choose a wedding date and start working on Save The Date Cards.
If you are planning a wedding at a resort or place you have never been before, negotiate a site visit. Some resorts even offer a free site visit or at least a reduced rate.
Determine your budget
Considerations: airfare, hotel, document processing, meals, transportation, activities. Don't forget the all important wedding items such as attire, photographer, flowers, ceremony fee, etc. If you are having friends or family, you must consider if they can afford the expense of the trip.
Location
Make sure the wedding day is not during the local hurricane season or wet months? How many people do you want to be there…just you and your future spouse? Friends? Family? Are you also planning on honeymooning there or somewhere else?
8-10 months prior
If you can make a wedding planning trip it will be really helpful to meet with local vendors like: florist, baker, photographer, etc.
During the site visit would also be a great time to take your chosen photographer for a test run. Maybe take some engagement pics on the beach for your Save The Date Cards.
Create wedding website with travel information and FAQs for your family and friends.
Contact a travel agent specializing in Destination Wedding to help negotiate a lower room rate and block your rooms.
Decide if you want a legal or symbolic ceremony. If you would like to get legally married outside the US, be sure to verify the local marriage residency requirements.
Start looking for wedding invitations.
Research the marriage requirements
It may be as simple as going to the local courthouse to sign a marriage license, or it may be as complicated as having to be a resident. There are destination wedding coordinators who will handle the entire license processing for you. If you are planning on having a legal ceremony in Mexico, it does require a blood test.
Wedding Theme
You may want to decide early on what colors or theme you would like. Make sure the bouquet you dreamed of will work at your destination wedding. A lot of flowers can be shipped in if not grown locally but make sure in advance.
Reservations
Book your reservations early! Many resorts and hotels are booked months in advance, especially during peak travel seasons.
If your group is larger, you may want to consider blocking rooms for your guests.
6-7 Months prior
Start looking for your wedding dress. Some dresses can take 4-5 months to make.
Start looking for the groom and groomsman attire.
Order groom and groomsmen attire. Take into consideration that linen suits are seasonal and may only be available to purchase in the spring.
Shop for wedding rings and jewelry for your big day.
3-4 Months prior
Finalize your wedding invitations and mail them out.
Start ordering items for Out Of Town Bags or wedding favors.
Start working on your wedding ceremony. Consider writing your own vows to make the day more personalized.
1 Month prior
Release any unnecessary rooms
Finalize all wedding day itineraries
Confirm travel arrangements with the hotel/resort
2-3 Weeks prior
Make sure you confirm and re-confirm EVERYTHING with your vendors before the wedding
3-4 Days prior
Arrive at your destination.
If you plan on using a local stylist for your hair and make-up, do a test run with your veil or hairpiece.
If you are having a legal ceremony, finalize all the local requirements to make it legitimate.
Meet with the hotel events coordinator or your wedding coordinator to go over the final details.
Have a welcome dinner in lieu of a rehearsal dinner to thank all your guests who have traveled so far to share this event with you.
Relax, you're on vacation!
Residency requirements
Once you arrive at your destination, how many days do you have to wait in order to get married?
The day of
Be sure to eat a bit and keep hydrated.
Enjoy your special day. You deserve every bit of happiness that comes with it!